RF/MW Connectivity Solutions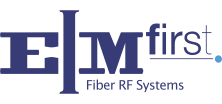 EIM First – TIMES MicroWave Systems representative in Israel of RF and MicroWave coax cables solutions to the defense and industrial markets. 
We provide RF and MicroWave coax cables and Connectors up to 110 GHz  consisting of Semi Rigid cables, PhaseTrack matched cable assemblies, Zero Loss cables with inherent amplifiers, cables with replaceable heads of all sorts, LMR cables, fbt, sio2, m17, HeliFoil, Radiating cables, Flexible cables, Fiber optic cables and Silverline Test cables. 
Cables are manufactured according to MIL-DTL-17, MIL-STD-87104, and MIL-C-81490.
Cables meet the following environmental conditions: MIL-STD-810D.
Most cable assemblies are assembled and tested at the EIM assembly production facility.
The only ones provided fully assembled by Times MW are the ones above 40 GHz, Miltech and Silverline cables.
Full qualification report will be sent upon request.
EIM First production specializes in providing engineering solutions.
Our highly skilled teams are capable of supporting complex engineering RF military projects, from design to implementation and testing.
The whole group focuses on developing future technologies and supplying its customers with products and systems based on their unique and tailor made needs and requirements.
RF and MICROWAVE coax cables & dRAWERS
COAXIAL CABLES
Semi-Rigid cables
PhaseTrack matched cables
Zero Loss cables with inherent amplifiers
Cables with replaceable heads of all sorts
Mil-C-17 cables
SilverLine Test cables
and more…
RF DEVELOMPENT
TurnKey engineering solutions
Integration systems include specific test equipment to customer specs
Local production department
SELECTION GUIDE
Cables selection guide over application
INSERTION LOSS CALCULATOR
Insertion loss calculator for download & print